Waterproof Tile Backer Boards and Panels
Waterproof Tile Backer Boards and Panels
Cement tile backer boards are not waterproof! Unless you apply a waterproof membrane or liquid applied waterproofing, you're leaving youself open to a water leak.
wedi backer boards are 100% waterproof thanks to the same XPS foam that is used in their shower bases. There is no need for additional waterproofing with wedi building panels which saves time on the job and virtually eliminates any risk or liability associated with water leaks.


wedi Building Panels come in a variety of sizes from 1/8" thick up to 2" thick and are suitable for virtually any application within a bathroom from floor to ceiling. 
All boards are 100% waterproof and have wedi's proprietary cement based coating and reinforcing mesh on both sides to provide an excellent substrate for thinset to adhere to.

Stock Sizes
1/4" thick 3' x 5'
1/2" thick 3' x 5'
1/2" thick 4' x 8'
2" thick 2' x 8'
Special Order Sizes
1/8" thick 2' x 4'
1/2" thick 3' x 8'
5/8" thick 3' x 5'
3/4" thick 2' x 8'
1" thick 2' x 8'
1 1/4" thick 2' x 8'
1 1/2" thick 2' x 8'
2" thick 4' x 8'

It's important to protect your framing with waterproofing up to the "splash height" which is usually figured at 80" above the floor. Most ceramic tiles, natural stones, grouts and thinset mortars are not waterproof.  A simple rule of thumb for shower walls and tub surrounds is "if there's tile, there should be waterproofing".

Using ceramic tile on your kitchen or bathroom countertops is becoming more common.  It's made easy with 2" thick building panels.  Simply cut the panels to match the cabinets, and start setting the tile.  



wedi building panels are the perfect underlayment for floor heating systems.  Not only is the XPS foam 100% waterproof; it also has an R-Value of 4.3 per inch of thickness.
Unlike wood or cement boards which will draw the heat from the system, wedi will insulate the heating system from those heat absorbing substrates and concentrate the heat to the tile.  The system will not have to work as hard to attain the desired temperature which will make it more energy efficient than other underlayments.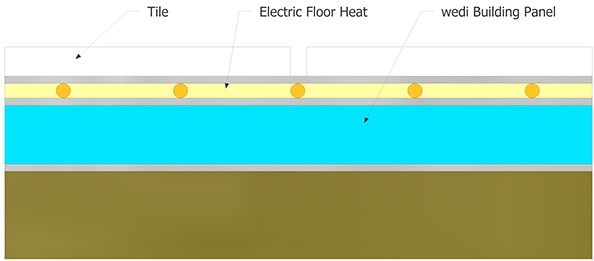 INSIST THAT YOUR CONTRACTOR USE WEDI IN YOUR SHOWER!
If you haven't hired a contractor yet, we're happy to refer
you to one of our many certified wedi installers.